About Us
Golden State Property Inspections is owned and operated by Victor Hernandez; a member of American Society of Home Inspectors (ASHI), California Real Estate Inspection Association (CREIA), and an accredited member of the Better Business Bureau. Victor has been a San Diego, CA resident since 1985 when the US Navy brought him to our beautiful city where he saw through a 20 year career serving in our military and retired as Senior Chief. Victor is a dedicated man, whether demonstrated in his time spent serving our country, his marriage of 30 years to his wife Yolanda, or his 20 years as a home inspector.
Victor aims to provide high quality, independent home inspections in San Diego and surrounding areas. His objective is to reduce client risk as much as possible in the purchase or sale of their home. Encouraging clients to accompany him during the home inspection so that he can answer their questions, point out areas of concern and explain how things work. In addition, a detailed, digital inspection report, complete with photos and video, is ready and emailed to our clients within 24 hours. The typical home inspection takes about three to four hours. The most common comment we hear is "Thank you for being so thorough!" Give us a call!
Through continuing education and experience we strive to maintain the highest level of training possible.
 Licenses, Certifications, Memberships and Insurance:
ASHI Certified Inspector
CREIA Certified Inspector
BBB Accredited Member (A+ Rating)
E&O and General Liability – Inspector Pro Insurance
Call Today
Find out more or schedule an inspection.
Call Today
 Find out more or schedule an inspection.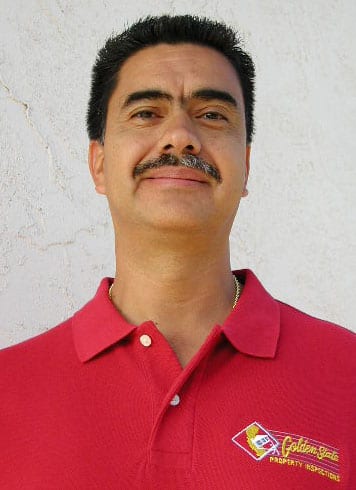 Meet the owner
Victor Hernandez, the owner of Golden State Property Inspections, has been performing inspections for 20 years and is a member of ASHI and CREIA.